Queen size bed frames have become increasingly popular in recent years, offering the perfect balance of space and comfort for couples or individuals looking to upgrade from a smaller bed.
With a variety of styles, materials, and features available, it can be challenging to decide which frame is right for you. This comprehensive guide will walk you through everything you need about queen size bed frames, from dimensions and types to materials and styles.
Queen Size Bed Frame Dimensions
One of the first things to consider when shopping for a queen size bed frame is its dimensions. The standard queen size bed frame measures 60 inches (152 cm) wide by 80 inches (203 cm) long.
However, the overall dimensions of the frame can vary depending on the style and design. It's essential to measure your bedroom space and consider any additional furniture or décor to ensure the bed frame will fit comfortably.
Types of Queen Size Bed Frames
Platform Bed Frames
Platform bed frames are a popular choice for modern and minimalist bedrooms.
They feature a low-profile design with a solid, flat base, which eliminates the need for a box spring. These frames provide sturdy support for your mattress, ensuring a comfortable night's sleep. 
Some platform bed frames also come with built-in storage drawers, making them an excellent option for those looking to save space.
Divan Bed Frames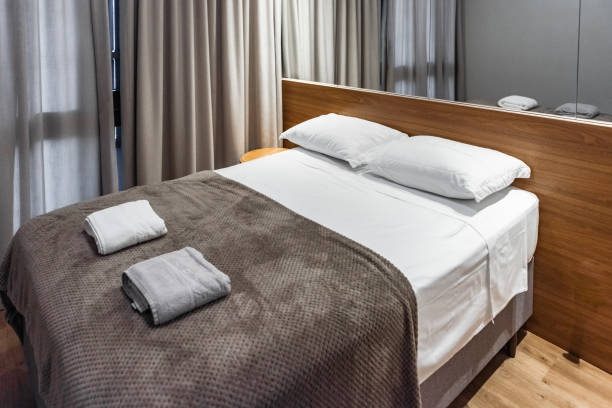 Divan bed frames consist of a sturdy, upholstered base that sits directly on the floor. The base is typically split into two sections, making it easy to manoeuvre and assemble. 
Divan beds often come with built-in storage options, such as drawers or an ottoman-style lift-up base. They can be paired with a wide range of headboards, allowing you to customise the bed's appearance to suit your tastes.
Sleigh Bed Frames
Sleigh bed frames are characterised by their elegant, curved headboard and footboard, which resemble a traditional sleigh. This classic design adds a touch of luxury and sophistication to any bedroom. 
They can be made from a variety of materials, including wood, metal, and upholstered fabric.
Canopy Bed Frames
Canopy bed frames feature tall, vertical posts at each corner of the bed, which can support a canopy or drapes.
These frames offer a sense of grandeur and romance, making them perfect for creating a luxurious, private sanctuary. 
They can be found in various styles, from traditional wooden designs to sleek, modern metal options.
Floating Bed Frames
Floating bed frame is a stylish and modern choice for your bedroom. They're designed to create the illusion of your bed floating above the ground, adding a touch of elegance to your space.
With a variety of materials and finishes available, you're sure to find the perfect frame to suit your taste.
Materials Used in Queen Size Bed Frames
Wood
Wooden bed frames are a timeless choice, available in various styles and finishes, including oak, pine, and walnut.
They provide a warm, natural aesthetic and can complement both traditional and contemporary bedroom designs. They are also sturdy and durable, making them a long-lasting option.
Metal
Metal bed frames offer a sleek, modern look, with designs ranging from minimalist to elaborate.
They are often made from materials like steel or aluminium and can be finished in a range of colours, including black, white, or metallic shades. 
They are lightweight, making them easy to move and assemble, and offer excellent durability.
Upholstered
Upholstered bed frames feature a soft, padded fabric covering, providing a luxurious, comfortable aesthetic.
They are available in various materials, such as velvet, linen, or faux leather, and can be found in a wide range of colours and patterns. 
They often include a padded headboard, adding a layer of comfort and style to your bedroom.
Rattan and Wicker
Rattan and wicker bed frames have grown in popularity due to their unique, bohemian aesthetic.
These frames are made from natural materials like rattan or synthetic alternatives like resin, woven together to create a lightweight, airy design. 
Rattan and wicker frames can bring a relaxed, coastal vibe to your bedroom, making them perfect for those looking to create a peaceful retreat.
Choosing the Right Queen Size Bed Frame
Consider your bedroom size and layout
Before purchasing a queen size bed frame, be sure to measure your bedroom to ensure it will fit comfortably. Consider the placement of other furniture and leave enough space for walking and accessing storage areas.
Assess your preferred sleeping position and comfort level
Different bed frame types offer varying levels of support and comfort. For example, platform bed frames provide a firmer surface, which may be preferable for back sleepers, while an upholstered bed frame may offer a softer sleeping experience.
Match your bedroom style
Choose a bed frame that complements your existing bedroom décor and furniture. Consider the materials, colours, and design elements to create a cohesive look.
Prioritise storage options
If space is limited in your bedroom, opt for a bed frame with built-in storage, such as a platform bed with drawers or a divan bed with an ottoman base.
FAQs
Do I need a box spring for a queen size bed frame?
This depends on the type of bed frame you choose. Platform bed frames do not require a box spring, as they provide a solid, flat base for your mattress.
However, other bed frame styles, such as metal or wooden frames with slats, may require a box spring for additional support and comfort.
Can I use a queen size bed frame with an adjustable mattress?
Some bed frames are compatible with adjustable mattresses, such as divan beds or certain platform bed frames. It's essential to check the manufacturer's specifications to ensure the bed frame is suitable for use with an adjustable mattress.
How much weight can a queen size bed frame support?
The weight capacity of a queen size bed frame will depend on the materials and construction.
Most queen size bed frames can support between 450 to 900 pounds (204 to 408 kg), but it's essential to check the manufacturer's specifications for exact weight limits.
How do I clean and maintain my queen size bed frame?
Cleaning and maintenance will vary depending on the bed frame material. For wooden frames, regularly dust and wipe down with a damp cloth, avoiding harsh chemicals that may damage the finish.
Metal frames can be cleaned with a mild soap and water solution. Upholstered frames may require spot cleaning or professional cleaning, depending on the fabric type. Rattan and wicker frames should be dusted and occasionally wiped down with a damp cloth.
Summary
Choosing the perfect queen size bed frame can greatly impact the comfort, style, and functionality of your bedroom. 
If you're looking to give your bedroom a more modern feel, you might want to check out CUURA's queen bed frames. They have some really stylish options that are sure to add some flair to your space.
One of the best things about shopping at CUURA is that they offer a wide variety of bed frames, so you're sure to find one that suits your taste and style. Plus, their frames are all made from high-quality materials, so you can rest easy knowing you're getting a product that will last.